Search Engine Optimization (SEO) is the process of improving the visibility and rank of a website or web page in a search engine. There are many factors that can influence a website's ranking, including the quality of the content, the quantity and quality of links to the site, and the use of keywords.
One of the most important factors in SEO is the use of keywords. Keywords are the words or phrases that a website or web page uses to identify itself in a search engine. A website that uses a large number of keywords will be more visible in a search engine and will be more likely to rank higher than a website that does not use keywords.
One of the best ways to use keywords is to include them in the text of a website or web page. This can be done by using keywords in the title of a website, in the body of a website, and in the tags (keyword-related information) that are used to organize websites.
We Mainly Focus on the
On-page optimization
Off-page optimization
The basics of keyword research
How to use keywords in your content
Competitor analysis
Link building
Measuring your SEO success
SEO, or search engine optimization, is the process of improving the ranking of a website on search engines. The higher a website ranks, the more likely people are to find it.
There are a number of techniques that can be used to improve SEO, including but not limited to:
Creating high-quality content
Optimizing website titles and descriptions
Link building
Using keywords strategically
Search Engine Optimization (SEO)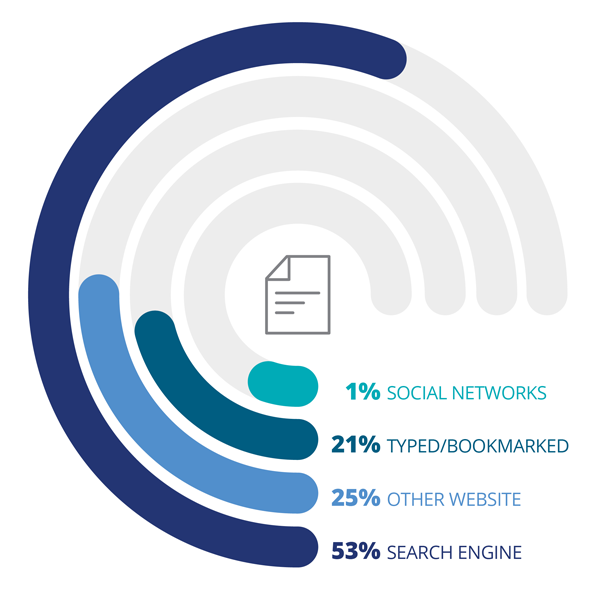 1. Create a search engine friendly title
Include 1-2 keywords related to your topic
Place your keywords within the first 65 characters of your title
Consider moving a phrase from your title to the first or second sentence of your abstract
2. Optimize your abstract
Place essential findings and keywords in the first two sentences of your abstract
Only the first two sentences normally display in search engine results
Repeat your keywords 3-6 times
Don't forget the purpose of your abstract is to express the key points of your research, clearly, and concisely
See below for an example of a well-optimized abstract.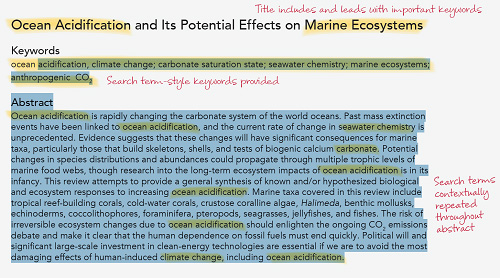 3. Use keywords throughout your article
Include keywords in your title (1-2), abstract (2-3), and keyword fields (5-7)
Keywords may be keyword phrases rather than just single words
Incorporate keywords in your headings too
Headings tip off search engines to the structure and content of your article
Find specific keywords on Google Trends and Google Adwords keyword tools
Remember that keywords are important for A&I services as well as SEO
Use keywords consistent with your field
If you're unsure, check the words used in your field's major papers
Let keywords flow naturally and in a contextual way
Search engines dislike too much keyword repetition, known as keyword stuffing, and may 'un-index' your article, making it hard to find online
4. Be consistent
Refer to author names and initials in a consistent manner throughout the paper
Remember to be consistent with any previous online publications
5. Build links
Link to your article across your social media, networking, and institutional sites
The more inbound links to your article, the more search engines like Google will value and highlight your content
Encourage colleagues to link to your article
The more links from respected individuals/trusted sites the more powerful the effect. Don't forget to do the same for them!